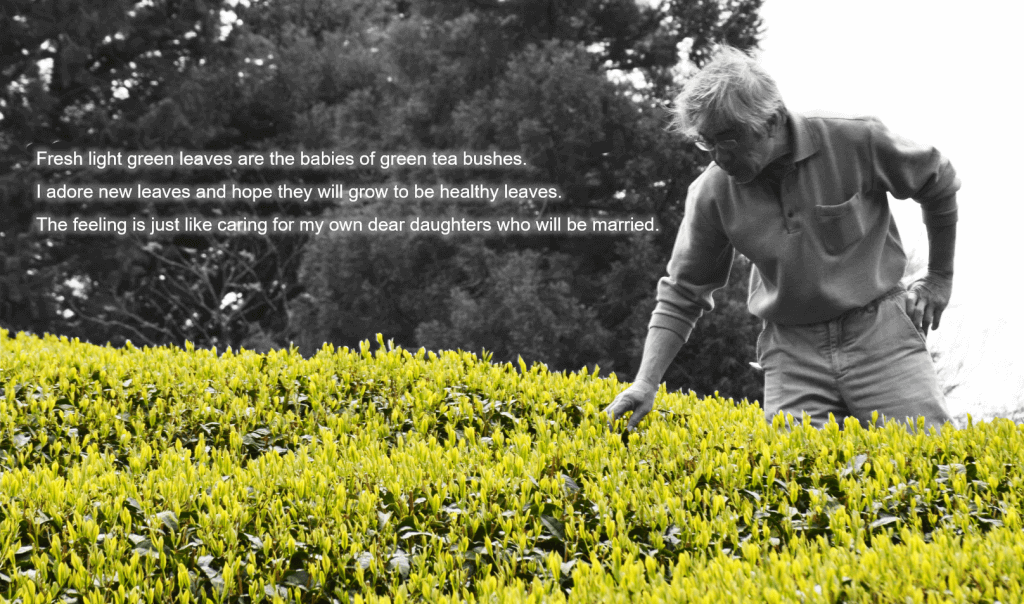 NEWS
December 6, 2021
The 2021 Japan National Tea Fair was held in November. The tea exhibited by Matsushita Tea Garden in the "Fukamushi-sencha" section was the best and won the Minister of Agriculture, Forestry and Forestry Award. Tea from organic tea gardens has become the best, and the quality of organic cultivation is being reviewed. At Matsushita Tea Garden, I am grateful that "God smiled."
Congratulations! Received the Producing Area Award 75th National Tea Fair-Kakegawa City
November 2, 2021
The World's first tea set "ME KA RA U RO KO". (the scales drop from one's eyes)
Introduction video of ME KA RA U RO KO. – YouTube
October 14, 2020
International shipping is arranged by EMS from Matsushita Tea Garden.
Between certain countries and Japan, postal service may be temporarily out of service because of decreased number of flights.
Please follow the shopping process line and send us an order by email.
Organic matcha manufactured by the newest method in Japan.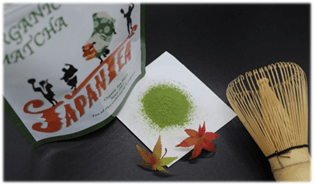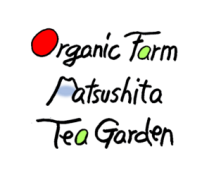 The organic matcha manufactured by the newest method developed in our own farm is almost 100% bioclean. We cover new leaves to block the sunshine for more than 20 days. They grow to be dark green leaves. Then the leaves are pulverized into 10 microns by a newly patented method in Japan. Only the powdered green tea (tencha) that comes through 100 mesh sieve are used for commercialized products. They are excellent in color and aroma.  We produce them as high-grade matcha for ceremonies as well as for processing ingredients for other food items.
Organic matcha is popular also in Japan as it is consumed whole without any waste. "Dark Green Tea Shaved Ice" is the most popular item in our farm cafe during summer season. We use 1㎏ matcha powder a day for this menu item.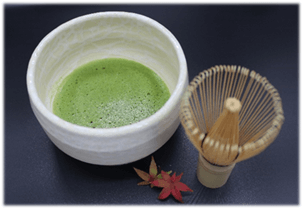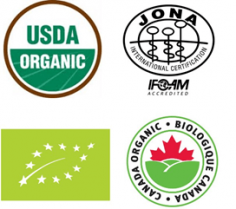 Yuzu Flavor Blended Matcha
We developed "Yuzu Matcha" which gives you the fresh aroma of yuzu.
We started with yuzu seedlings and managed to cultivate organically for 7 years. The organic young yuzu fruit which is still green contains abundant aroma. We peel the thin green yuzu skin and dry them. After the pulverization of the dried skin along with the matcha, the yuzu skin would be separated through the 100 mesh. In this way only its aroma would remain with the matcha.
It is a fresh and sensational taste without sourness. Enjoy the authentic matcha flavor as well as fresh scent of yuzu.
Here is the easy instruction of how to make matcha tea.
From Japan's top production area of sencha with the deep-steamed tea method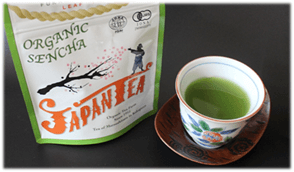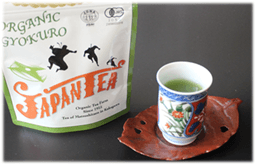 There are two methods of producing sencha: short-time-steaming method which appears to look nice and long-time-steaming method which appears to look bad but tastes great.
Why did we need to make tea that appears to look bad? Interestingly, it is the result of pursuing the method for best taste. Kakegawa city, located in Shizuoka prefecture, is a great place for cultivating tea bushes with warm weather and a good amount of rainfall. But too much sunshine makes the tea too bitter by the short-time-steaming method. This area originally did not produce the high quality green tea. But the local tea farmers discovered that steaming the healthy raw tea leaves for a long time made the tea have sweet taste and umami(good taste) enhanced by pectin. Although the tea does not appear so good by looks, the aroma is great. They tried the new method over the traditional way and developed "deep-steamed sencha." Kakegawa now ranks as one of the best production areas in the national green tea taste competition. Our farm also participates in competition and has received prizes every year.
Dark green murkiness in green tea contains umami and bitterness as well as much minerals, chlorophyll and other nutritions.
"Kyusu" (special Japanese green tea pot) with stainless sieve or sieve with many small holes can work well to extract tea from thin tea leaves. Hot aromatic green tea is especially comforting in cold season.
Gyokuro and genmaicha(tea with roasted rice) as well as sencha are processed by deep-steaming method.
You can enjoy drinking them using teabags. Little children love these beverages even though they generally do not prefer bitter taste.
Prepare green tea with hot water and then pour that hot tea into a cup that only has ice in it. The rapid cooling can enhance the balance of the umami and the bitterness of the tea. You can enjoy the tasty cold tea in hot summertime. We are always producing the best teabags and tea sets that would make the most flavorful tea.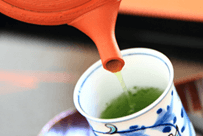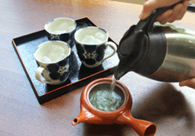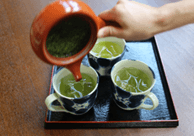 Here are the basic instructions of how to make sencha and gyokuro.
Original tea set "Kiss to Fuji"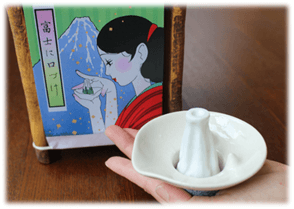 I strive to make better soil for my green tea. I also "play with soil," that means do pottery as my hobby. The key elements to decide the quality of tea are: appearance(shape and color), color of the water(color of the extracted water) and the aroma(leaves and the extracted water). I created a tea set that anybody can make the best aromatic tea out of 1g tea leaves. The tea leaves and the special tea cup in your hand are inspired by the image of Fuji above a cloud. It is a very simple method to separate the extracted leaves and the green tea. After kissing Fuji, you can certainly smile enjoying all of umami, astringency, and bitterness.
(Our farm is an International Choice Tea Competitive Exhibition gold medal winner)
The first cup is for umami. The second cup is for astringency. The last is to enjoy bitter tea leaves on sweet cookie. The tea set is for your own small full-course tea ceremony.
Here is the basic instruction of how to use our original tea set, "Kiss to Fuji."
Kukicha, Hojicha, Genmaicha, Sannen-bancha, Japanese Black Tea. They all have great taste by extracting the flavor from leaves with hot water.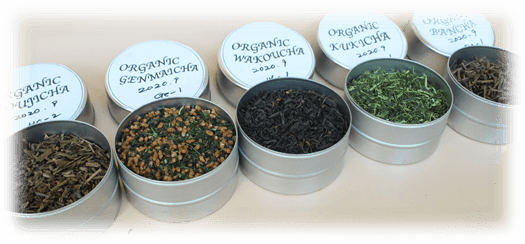 Japanese green tea has been attracting worldwide attention. The great taste called "umami" in the tea is acquired by specific cultivation management and processing technique. You can either extract the flavor from tea leaves using cold water for 1- 2 hours, or by 50-60℃ water for 1 minute.
Extracting by water with higher temperature can increase catechin which is the ingredient for the bitterness. If you would like to enjoy the authentic aroma of Japanese green tea with bitterness and astringency, higher temperature is better.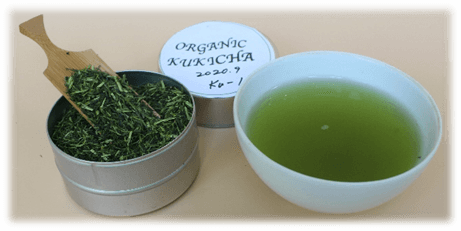 Kukicha is made from only the stems from gyokuro and sencha. It has fresh aroma and sweet taste. It goes with sushi as the tea cleanses and refreshes the mouth each time to enjoy the different kind of sushi  topping.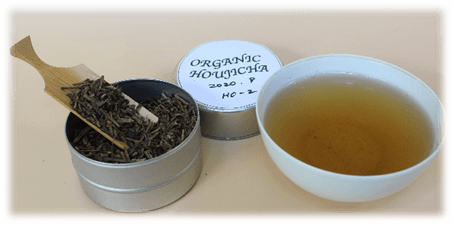 Hojicha is made by roasting sencha, bancha, or kukicha until the leaves become dark brown. It has sweet aroma with plain and fresh taste. Great drink to go with oily food and food with strong smell. It has less caffein.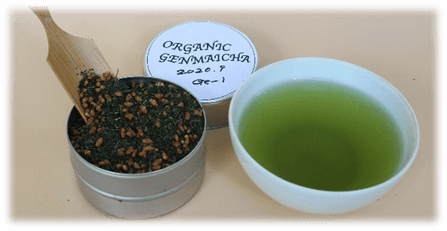 Genmaicha is made of sencha and roasted brown rice in the same proportion. You can enjoy both the aroma of roasted brown rice and the green tea. Highly recommended for children and elderly as it has less caffein.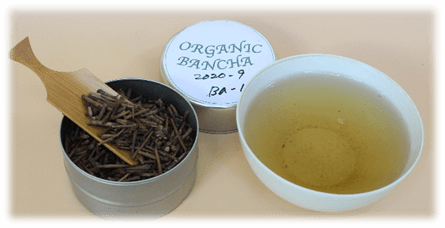 The tea leaves are aged for more than three years. Sannen-bancha is made by roasting the aged leaves for a long time. It does not contain stimulating substances like caffein. Smooth sourness and aromatic taste is the immediate gift to your mouth.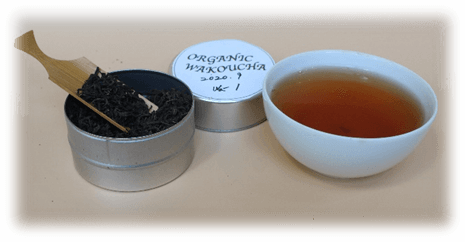 Japanese black tea is made from tea bushes for producing green tea in our farm.
Mild and fruity aroma with sweet taste and less astringency.
Many ways to use organic green tea powder.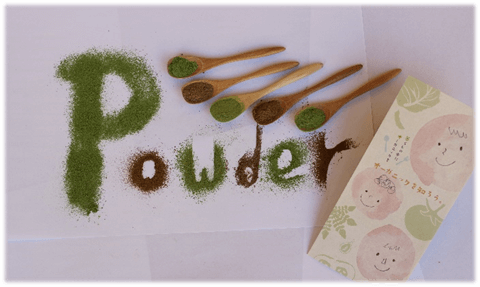 With the times, tea has been developed as a drink. But in ancient times, green tea was used for detoxification. As for pharmaceutical sciences, the first medicine human discovered was tea. Various functions of green tea have been discovered by modern scientific researchers. Matcha has thoroughly developed in Japanese culture. It has been a drink but also something to eat. Our passion from the start has been to spread the culture of enjoying the whole tea leaves. Everything we produce at our farm can safely enter your body. Since we opened our green tea cafe for our local customers, I realized the vast potential to use various powdered tea for all kinds of food items.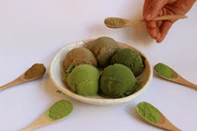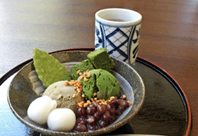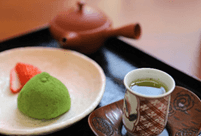 Our desserts and drinks with powdered green tea at our farm cafe.
Certified farm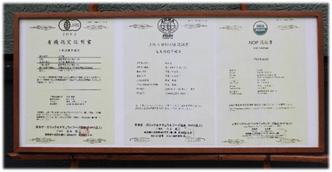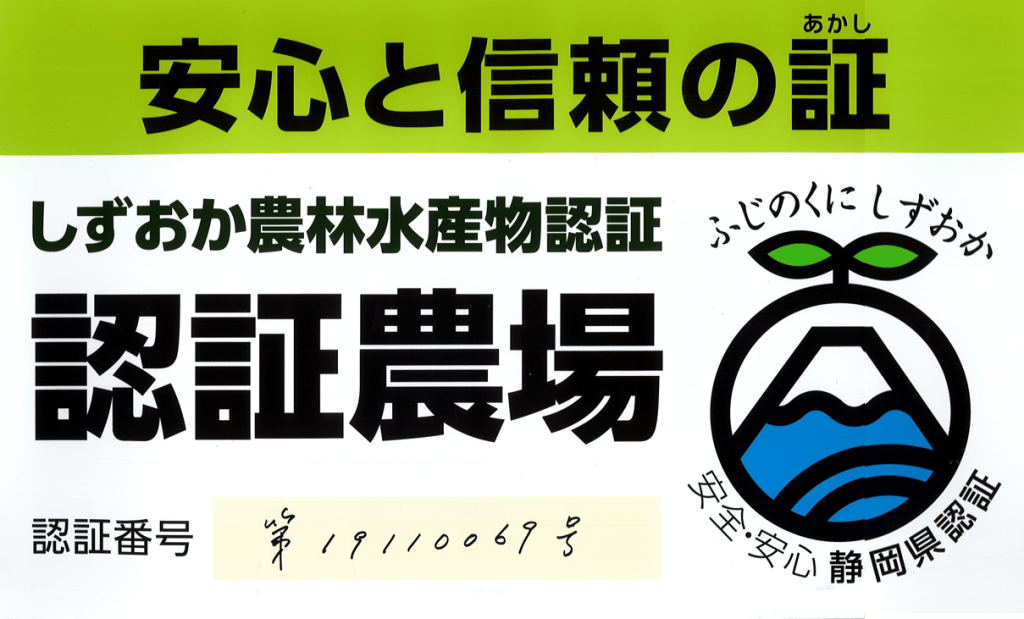 Our farm has been in operation more than 100 years, seasons after seasons.
We have been doing our best to renew our strength and passion. Our goal has been always to let people enjoy our tea in various ways throughout the year. We produce tons of tea. Yet our focus for the taste is on one cup of tea. For 40 years I have kept my focus on this one cup of tea in our tea farm. My son has been doing the same for 12 years. Tea bushes sprout their leaves beautifully once a year. I have seen the fresh new leaves forty times. From selecting the right varieties to plant as seedlings, we have been cultivating our soil to maintain a certified organic farm. We are now organic JAS certified, IFOAM certified, Shizuoka Prefecture Agricultural, Forest and Fishery Products certified. Our farm is the first organic tea farm under Shizuoka Prefecture Agricultural, Forest and Fishery Products certification in 2019. Our previous NOP certification was proved under equivalency test between United States Department of Agriculture and Japanese Ministry of Agriculture, Forestry, and Fisheries. Because of the equivalency, the distribution of our organic products between the US and Japan has expanded.
Farm Cafe (Tea time Maruha)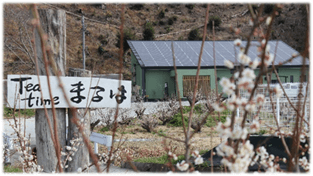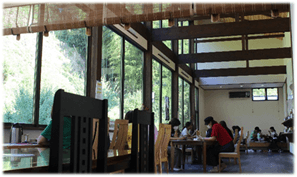 Along with the increase of exports, we also wanted to let our local friends and neighbors to enjoy our tea. We opened a farm cafe "Tea Time Maruha" in 2017. Our cafe has been packed with people who would order green tea shaved ice everyday during this summer. It has been a great learning experience to explore the possibility of using green tea as different type of food items. Our cafe is HACCP qualified with the strictest hygiene standards. We are eager to try new green tea products. Our customers made us grow to be a wonderful cafe by giving us feedback.
We have started to develop a green tea alcohol sparking drink as a certified researcher in Shizuoka prefecture this year. We are willing to try and see if it is possible or not. Please come to our farm cafe if you have a chance. We are all happy to give you a tour too.
JAPAN TEA  series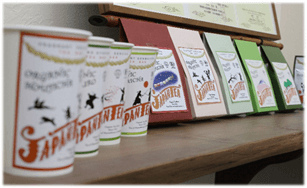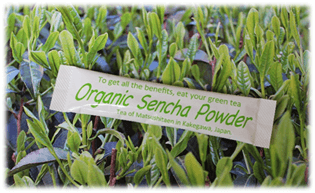 When the samurai era ended and foreign trade started in Meiji era, Japan could only export raw silk and green tea. New aspects of culture, modern systems, machineries and many others were imported. But Japan could offer only these two items to the world. In other words, raw silk and green tea were recognized by the world 150 years ago.
Our famous historic tea farmers produced, processed, and exported the Japanese tea to the world. Green tea was considered as our cultural property. Producers created designed labels called 'ranji label' by combining the art of ukiyoe and woodblock printing technique for the exporting packages.
Now green tea has become even more popular worldwide with the growing awareness of mental and physical health. Our organic green tea is once again packed in this ranji labeled package to introduce our Japanese history and culture.
We have been mostly selling our tea by bulk. But recently we started to sell our products online. We hope to hear your feedback about our products just like at our farm cafe. Our original tea set is also included in the online shop.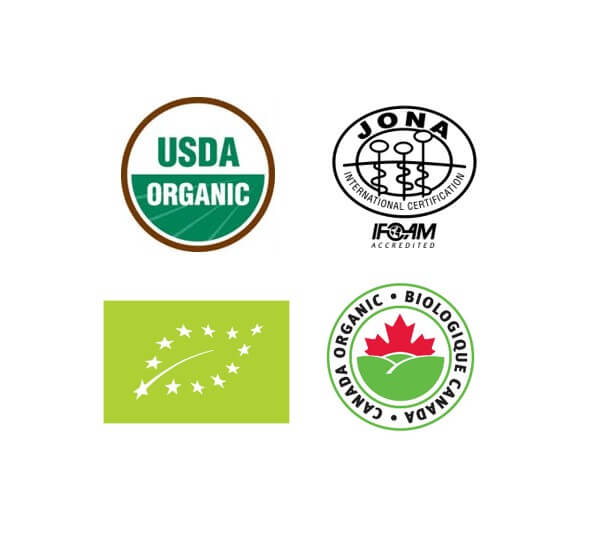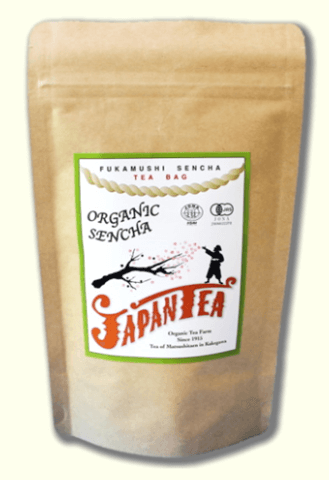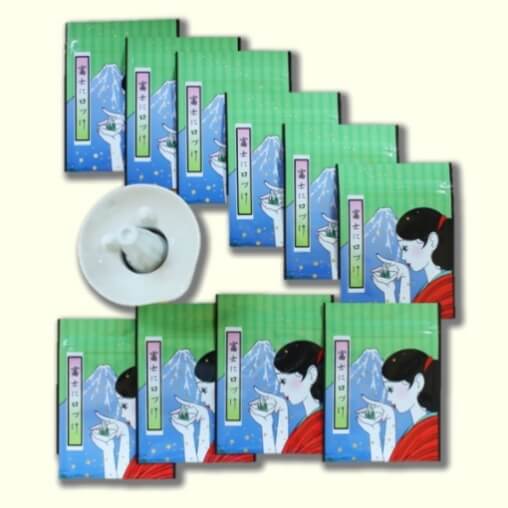 All the products are single origin organic matcha produced in Matsushita Tea Garden.
International shipping is arranged by EMS from Matsushita Tea Garden.
The EMS expenses will be charged to you.
Between certain countries and Japan, postal service may be temporarily out of service because of decreased number of flights.
Please follow the shopping process line and send us an order by email. Please include your name, postal code, address, phone number in your email address.
You can either pay by Paypal or through bank transfer. Please mention the method of payment.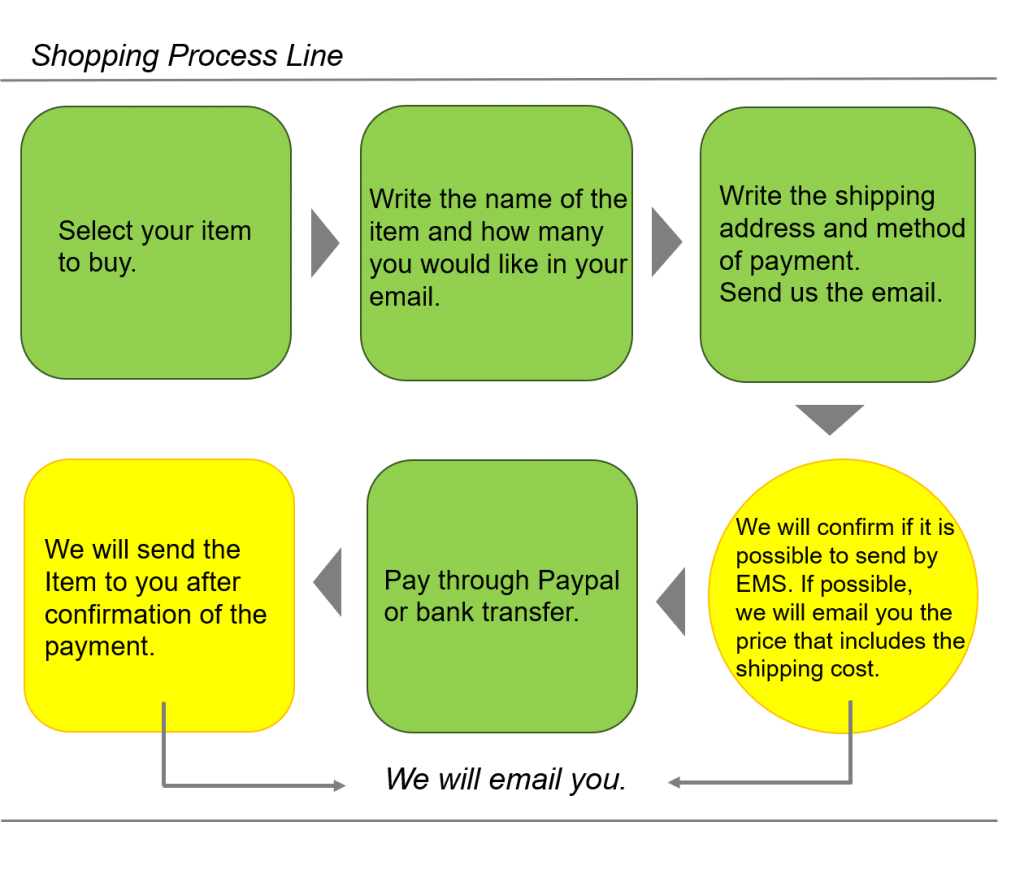 About the available varieties by bulk sale
Organic Yuzu Matcha

Organic matcha with fragrance of yuzu. It took seven years for us to transfer only the fragrance of yuzu to the matcha.
We use yuzu from our own farm. The dried peel of the unripened green yuzu are pulverized together with tencha. You can enjoy the taste of matcha and fresh fragrance of yuzu as the pulverized peel are all separated.
Organic Gyokuro

Dark green leaves that are grown under blocked sunlight are easily deep steamed. Organic Gyokuro contains much teanine that is the taste component. It is bountifully delicious tea. It is beneficial for relaxation and concentration and also alleviates stress.
New Green Tea Powder

Our patented manufacturing method and unique pulverization technique at our farm can produce New Green Tea Powder. It is rich in catechin, amino acid, caffein, vitamins, minerals and so on. Enjoy this new type of green tea and promote your health and beauty.
Organic Hojicha(roasted green tea)

We roast sencha, bancha and kukicha from our farm by "sand roast method" to make the Organic Hojicha. The caffein content is low as it is roasted by high temperature. Hojicha goes well with somewhat oily food because of the light taste with good aroma. We also have the Organic Hojicha powder.
Organic Genmaicha (brown rice tea)

You can enjoy both the aroma of roasted brown rice and the taste of sencha. Mild taste. Easy to drink. It can suppress the increase of cholesterol and lipid. Great tea if you are on diet. Genmaicha powder is the ingredient of tencha. It is simply awesome.
Organic Japanese Black Tea

We produce the Organic Japanese Black Tea from the leaves grown in the blessed nature during four seasons in our farm.
We even consider insect pests as providence of nature. Fermentation by natural cause is actually helpful for promoting fruity aroma. It has a sweet and simple taste. We also have the Organic Japanese Black Tea powder.
Organic Three-Year-Aged Bancha

After aged for three years, we roast the tencha by sand roast method. As it is low on stimulating ingredient like caffein and tannin, this bancha is easy on your body. It promotes digestion and relaxation. It helps to cure cold hypersensitivity.
Organic Matcha

Our Organic Matcha is made entirely through state of the art technology from cultivation management, tea production, and to pulverization process. Our patented high-tech process pulverizes the leaves into 10 microns and have them go through a 100 mesh net. The result is almost pasteurized matcha powder. We have several varieties according to the usage.
Organic Deep Steamed Tea

You want to drink the Organic Deep Steamed Tea everyday.
It was developed from traditional sencha. The essence of Japanese tea is in "umami" (delicious taste) which enhances the bitterness. Enjoy the intriguing balance of bitter taste and fresh aroma. There are wide varieties of grade in production.
Organic Kukicha

Organic Kukicha is made from the stems separated during the manufacturing process of the Organic Deep Steamed Tea and Organic Gyokuro. Stems have no bitterness but have unique fresh aroma and sweetness. It can keep its flavor with hot water. Great tea to go with Japanese food.
We sell only single origin organic tea from our farm. We value the quality of our products and hope for our long-term relationship. Please tell us the tea you would like to have and quantity by email.
For bulk sale, we will send the bulk sale price sheet, stock status, term of sale, and sample tea.
When we ship bulk product, we will attach the organic certification issued by the organic certification organization.